Maxim Vengerov gives a fascinating Violin Master Class in Montreal
By Stephen Fogarty
•

November 7, 2012
About 120 violin students and classical music fans of all ages were privileged to attend a fascinating Master Class given by the Russian violinist Maxim Vengerov in Montréal on Friday, October 26.  Mr. Vengerov was in town performing in and conducting two concerts by the Orchestre symphonique de Montréal (OSM).  The program notes mentioned that Mr. Vengerov now divides his time equally among playing the violin, conducting, and teaching.  His skills in the first two are universally acclaimed, and it was apparent only a few minutes into the Master Class that his skills as a teacher are on an equally high level.
The Master Class featured four Montréal area up-and-coming, young violinists each of whom would begin playing a work for some five to eight minutes.  Mr. Vengerov would then give a general overview of their efforts, followed by a review of particular passages to work on technique.  He often illustrated the points by playing on his own ex-Kreutzer 1728 Stradivari, and toward the end even played a duet with one of the students, Baptiste Rodrigues.
On the technical side, Mr. Vengerov gave advice such as the following:  Violin playing involves contraction and release of muscles.  You have to let yourself go in harmony with the music.  Your body cannot always be loose, nor should it always be tight.  Concerning the bow arm, he said to treat it as your wing.  It should not be held rigidly and stationary, but rather let your elbow and bow arm move, which in turn will help you to breathe while performing.  Mr. Vengerov also cautioned one student to make sure that he did not neglect the importance of the pinky finger in the bow hold.  The little finger can be used effectively to assist in modifying bow pressure, the master added.  On pizzicato, he said include the pad at the end of the fingers; don't try to pluck only with the finger tips or nails.
On music theory, Mr. Vengerov recommended that any a musician playing a composition should form a strategy for it.  Although he said that every note in a score is gold and deserves attention, it must be realized that certain parts of the work are written by the composer to serve lesser roles, such as acting as a bridge between two themes.  Thus he said not every part of a work can be played with the same dynamics, nor should an artist try to play every arpeggio with equal beauty.  A composition played with equal force and beauty throughout will wear out an audience, just as much as a completely dull rendition of the same work with no dynamic range will bore the audience almost to sleep.
Mr. Vengerov also had interesting ideas on the issue of tempo.  He indicated that he was not a big fan of overdone rubato.  There is plenty of room for creativity and improvisation even while respecting the tempo markings of a composer.  For example, he could see no reason why a particular phrase need be repeated exactly the same each time it repeats.  He said that when working on performing a composition, think of the notes in a vertical way, not only horizontally.  Your role as a musician is not just to take a straight line from measure to measure to the end of the piece.
The worst thing a musician can do, Mr. Vengerov said, was to think he or she had arrived at a definitive understanding and technical level of performance for a composition.  Artists must always revisit a work in such a way as to look at it as if for the first time, and strive to present it each time in a fresh manner.
A master violinist's Master Class easily might have soared to such an overly technical level that the audience would for the most part be left behind.  Although Mr. Vengerov gave many insightful technical suggestions to the four performing students, the class was presented in such an entertaining and informative manner, including using many facial expressions, some humorous body gestures, and frequent use of his beautiful singing voice to indicate musical lines and phrasings, that any person with an interest in classical music found it to be highly informative and enjoyable.  He also treated each student with respect as a fellow musician, and their appreciation was evident.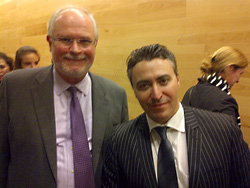 At the end of the class, the master violinist thanked all of us for coming, making us truly feel like we had done him a favour by showing up.  Afterwards, he stayed for a considerable time chatting with anyone who wished to meet him, signing autographs, and graciously posing for pictures, including the photo with your scribe at left.  The entire evening was an outstanding success, and the OSM is to be congratulated for facilitating this event.
Postscript – Serendipity for a student
Baptiste Rodrigues, mentioned above, who is also this writer's violin teacher, caught a plane to Germany the day after the Vengerov Master Class to compete with over 130 other musicians for one of two positions in the first violin section of the Deutsches Symphonie-Orchester Berlin (DSO).  He underwent a three-part selection process, each time playing a different composition.  The second work he was given to play was, by pure coincidence, the same Brahms Violin Concerto he had reviewed on the Friday night with Mr Vengerov.  Baptiste sailed through to the final round and was selected for one of the positions.  He will be joining the DSO in September 2013.  We may observe that he was almost certainly the sole candidate in the DSO competition to have been coached two nights before playing the Brahms Concerto by one of the world's greatest violinists.
Violin Master Class with Maxim Vengerov
Private concert with students:
Simon Riverin, Conservatoire de musique de Montréal (Undergraduate) – Richard Strauss, Sonata for Violin and Piano in E flat major, Op. 18
Patrice Calixte, Université de Montréal (Master's level) – Felix Mendelssohn-Bartholdy, Concerto for Violin in E minor, Op. 64
Carissa Klopoushak, Schulich School of Music, McGill University (Doctoral candidate) – Maurice Ravel, Tzigane
Baptiste Rodrigues, Schulich School of Music, McGill University (Post-grad professional diploma in performance) – Johannes Brahms, Concerto for Violin in D major, Op. 77
Foyer Allegro, Maison symphonique de Montréal
October 26, 2012
Stephen Fogarty is an amateur violinist studying at the Conservatory of the Schulich School of Music at McGill University in Montreal.  He is also an attorney practising immigration and citizenship law at his office Fogarty Law Firm.  He may be reached through the Firm's website www.fogartylaw.ca, and Twitter handle @Stephen_Fogarty.  The views expressed in this Blog are his own.