A heroic performance by the McGill Symphony Orchestra
By Stephen Fogarty
•

November 4, 2012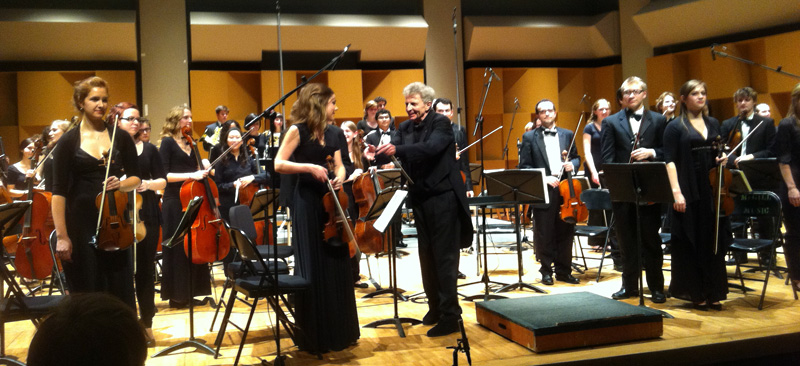 An enthusiastic crowd packed Pollack Hall on a chilly November 1st evening to hear the McGill Symphony Orchestra (MGSO), which played three works, two rarely performed and one a cornerstone of modern Western culture.
The concert began with the 1920 version of Stravinsky's Symphonies of Wind Instruments. This rather sombre, one-movement work of some 10 minutes duration was dedicated to the memory of Debussy.  Its interesting progressions provide ample opportunity for wind musicians to showcase their talents, which the McGill players surely did.
Then the wind section exited and string players entered for a performance of Aaron Copland's Concerto for Clarinet and String Orchestra with Harp and Piano.  This work was commissioned in 1947 by a certain Benny Goodman.  Given the latter's then status as one of America's foremost big band leaders, it was somewhat strange that the work was written with no brass parts.
The first movement is marked "slowly and expressively".  Think pensive Stravinsky showcasing rather tranquil clarinet interactions with the orchestra, then superimposed with a growing jazzy feel, and you get the idea.  The first movement concludes with a lengthy cadenza.  The cadenza itself progresses through increasingly energetic passages rolling along without pause into the second movement, when the orchestra kicks in again, playing according to the marking "rather fast" to the end.
The McGill musicians gave strong support throughout to the soloist Eric Abramovitz, a winner in the 2012 McGill Concerto Competition, who, in the words of my saxophone-playing concert seat mate, "nailed it".  Note Eric's name because you are likely to hear it often.  Think of him as a young Wynton Marsalis of the clarinet, since he seems equally at home whether playing classically-based or jazz-inspired phrases.
After the intermission, we heard the Eroica of Beethoven, played of course by the full orchestra.  Professor Alexis Hauser had his MGSO student musicians at the top of their skills throughout the performance which lasted about 49 minutes, including pauses between movements.  The first violins were placed stage left, and the second violins and violas stage right, enabling the audience to see, and not only hear, the intricacies of Beethoven's writing.
In the first movement, the greatest in all symphonic music, the MGSO soared in the mighty crescendos and let us feel all the dissonances, which so shocked the music world at its Vienna premiere in April 1805.  The second movement funeral march was played with great conviction and dignity. In the scherzo third movement the violin and viola players' bows danced on the strings with great effect and the French horn section was outstanding.  In the finale Maestro Hauser's direction yielded enthusiastic yet precise playing.  The oboists deserve particular mention.  The musicians earned a loud and long applause.
Having attended this program, it is easy to understand why McGill's Schulich School of Music has a top-10 world ranking.  Their next concerts will take place on November 30th and December 1st, featuring Debussy's Noctures, Triptyque symphonique pour orchestra et choeurs as well as Symphony No. 13 (Babi Yar) for bass solo and choir by Shostakovich.  Tickets are movie priced at only $ 12.  Telephone (514) 398-4547.
Program
McGill Symphony Orchestra
Professor Alexis Hauser, Artistic Director
Eric Abramovitz, clarinet, soloist
Igor Stravinsky, Symphonies of Wind Instruments (1920 version)
Aaron Copland, Concerto for Clarinet and String Orchestra with Harp and Piano (1947-49)
Ludwig van Beethoven, Symphony Number 3 in E-flat Major, Op. 55, "Eroica" (1804-05)
Pollock Hall, McGill University, Montreal
October 31 and November 1, 2012
Stephen Fogarty is an amateur violinist studying at the Conservatory of the Schulich School of Music at McGill University in Montreal.  He is also an attorney practising immigration and citizenship law at his office Fogarty Law Firm.  He may be reached through the Firm's website www.fogartylaw.ca, and Twitter handle @Stephen_Fogarty.  The views expressed in this Blog are his own.
Photo:  Conductor Alexis Hauser and McGill Symphony Orchestra musicians, © 2012 Andrew Fogarty