PR Card renewal: a procedure to be taken very seriously
By Stephen Fogarty
•

September 30, 2010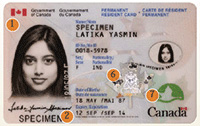 In early 2004 the Canadian government started issuing Permanent Residency Cards (PR Cards) also called by many persons "Maple Cards" or "Maple Leaf Cards". A PR Card normally has a five-year validity. There are many hundreds of thousands of PR Cards in circulation, of which large numbers are close to expiring, or have already done so. (See image of a specimen PR Card at left.)
Our experience is that many permanent residents of Canada do not spend the necessary time and effort when applying to renew their PR Card.  In fact, there are many possible negative consequences that can result from this process.  PR Card renewal is very important business which must not be taken lightheartedly.
What is a PR Card?  Individuals who become permanent residents of Canada normally are issued a PR Card within approximately one month after arrival in Canada. A PR Card is a plastic identification document which contains the individual's name, the date he or she became a permanent resident of Canada, his or her photograph, and additional information embedded electronically into it. In most cases, according to law Canadian permanent residents who travel outside the country must have a valid PR Card to return to Canada by commercial carrier, such as an airline. It also serves as a solid personal identity document when dealing with schools, financial institutions, and for many other situations.
Possible consequences flowing from PR Card renewal applications
The first important point to keep in mind is that Canadian immigration officials use information provided in a PR Card renewal application to do much more than decide whether to grant a new card. This is because under Canadian Immigration rules, a permanent resident is supposed to be present in Canada for at least two years during any five-year assessment period unless he or she is absent in accordance with strict criteria. Put simply, an individual may be outside Canada for more than two years in any five-year period if he or she has worked full-time for a Canadian business or government, if the individual was in the company of a Canadian citizen or permanent resident, the latter being legally outside Canada according to the rules, or for humanitarian or compassionate reasons.
If it is discovered during evaluation of a PR Card renewal application that the individual has not satisfied residency requirements, a removal order will be issued and the only way to contest such a decision will be through an appeal at the Immigration and Refugee Board of Canada (IRB). However such an appeal is a lengthy process. As at the date of this blog, an appeal procedure may take anywhere from 18 months up to two years or even longer, during which entire period the individual's status remains far from in certain.  In addition, such an appeal can be very complicated since it will likely involve interpretation of the legal rules as they apply to the facts of the case. An individual will most likely need professional legal counsel to take on such an appeal.
The second major point to keep in mind is that in order for a person to become a citizen of Canada, he or she must be absolutely sure to maintain valid permanent resident status at all times. In this regard, it is crucial to emphasize the Canadian citizenship commission will not finalize any application for citizenship during any period of time when an applicant's permanent residency status has been placed in doubt.
A third important point is that there is currently a backlog of some seven months from the time the government processing office receives a PR Card renewal application until that office begins to study the individual's application.  Once the application is reviewed, if it is accepted the permanent resident will be contacted approximately one to two months thereafter to meet with an immigration officer to pick up his or her new PR Card.  However, if the PR Card renewal application is not complete (missing necessary supporting documents, incorrectly or incompletely answered questions), it is highly likely that the entire application will be returned to the applicant. This is likely to entail an additional delay of at least 7 to 8 more months.
Be smart: seek legal counsel for your PR Card renewal
Although the government instructions for PR Card renewals are fairly detailed, we find that applicants quite often misunderstand the instructions, or do not supply enough supporting documents or explanations to establish their days in Canada, the number of days they have spent outside the country, and the reasons why they may have been outside of Canada.
Considering what we have discussed above, it is very strongly advised that, as a bare minimum, a permanent resident should engage professional legal assistance. This should be done prior to submission of the PR Card renewal application to the government. A competent immigration lawyer can guide an individual to ensure that any and all relevant materials are placed before the PR Card renewal processing officer, as well as organizing these documents and providing full legal submissions to back up the applicant's position that he or she was in fact respecting the residency requirements.
Permanent resident outside of Canada with an expired PR Card
Due to the fact that permanent residents may have business or personal reasons obligating them to be outside Canada, many thousands of them will find themselves abroad with expired PR Cards.
There is a widespread misconception among many persons that a Canadian consulate or embassy outside Canada will automatically provide a travel document for an individual to return to Canada in absence of a valid PR Card.  This is far from the truth.  In fact, Canadian government policy and regulations require an individual who is a permanent resident to prove that he or she has maintained permanent residency status despite being outside Canada in order to be granted the necessary travel document to return to Canada. Once back in Canada, the individual will then apply to renew their PR Card.
Similar to the situation of an individual in Canada, a person who is outside of Canada and who fails to satisfy an embassy official that he or she has in fact maintained permanent residency status will receive a refusal of the travel document request, along with a determination of loss of permanent residency status.  The only recourse against such a finding is an appeal at the IRB.  In addition, if the individual has been outside of Canada for at least 365 days predating the determination made by the embassy, the individual will not be permitted to return to Canada to fight his or her case at the IRB unless special permission is obtained from the IRB itself. Such special permission is not easy to get.
As was the case regarding submission of the application for a new PR Card, it is strongly advised that a person requesting a travel document from a Canadian embassy, high commission or consulate seek legal counsel before doing so.
Fogarty Law Firm provides full legal assistance
Fogarty Law Firm is ready to provide full professional legal services and support for any PR Card renewal application from anywhere in Canada, or for any application requesting a travel document at a Canadian embassy, high commission or consulate throughout the world. In addition, we have highly experienced legal counsel should you wish to contest a negative ruling on your permanent residency status whether at an IRB appeal or even ultimately at the Federal Court of Canada. Please contact us for assistance.