Social Distancing and Religious Celebration in the COVID-19 Pandemic
By Stephen Fogarty
•

April 8, 2020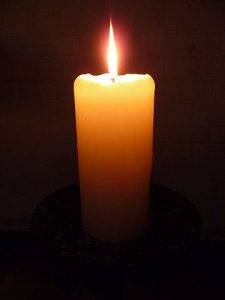 Yesterday during our early evening stroll, my wife and I saw two bunnies playing together. Our thoughts turned to the thousands of large, family gatherings that will not take place this weekend, with the attendant Easter egg hunt for the young ones. The year 2020 may mark the first time in human history that religious social gatherings involving more that immediate "self-isolated" family members will be prohibited, or at least severely discouraged, world-wide. And this is happening during Christian Holy Week and at Passover, with Vaisakhi on April 13th, and Ramadan coming soon. In the past, one or a few religions might have faced prohibitions due to prejudice and fear, and this in distinct geographic territories, but not world-wide nor for objective, medical reasons.
Although all religions recognize the importance of individual prayer, or meditation if you prefer to call it, an essential aspect of religious belief involves community expression. This may realize itself in group recitation of certain prayers, hearing readings from a holy book, lessons from a leader, as well as participating in chants, songs and other music. Experiencing the presence of others at the same gathering, hearing and even feeling their words reverberating in ourselves, noting the rising temperature in the room from all the bodies therein, the candles, greetings of welcome and good-byes to each other, all of these are linked in our understanding of what it is to express our faith.
If you attended a party on December 31st, 2019, and asked anyone what they thought about social distancing, they may well have thought you had imbibed too much and were speaking nonsense. Not even four months later, this has become a famous term across the globe. We are told by government leaders, celebrities, and large corporations, that even in isolation, "we are all in this together". Washing our hands and maintaining social distancing, or more accurately physical distancing, will be our safest route out of the Coronavirus crisis.
But we are not together when we are apart. Attending Easter Mass by watching television, replacing large family gatherings by Skype or Facetime, even using the clichéd "clearest screens on the best devices", is a poor substitute to personal interaction. It is not the same. We will miss the noise, somewhat rambunctious children, hugs from family members, toasts, and certain know-it-all in-laws, and occasional family arguments. Part of what will make this Passover and Easter celebrations harder will not necessarily be the fact we cannot all be together, since most years there were likely some family members missing for various reasons, such as sports tournaments, but because we have no choice in the matter. This lack of choice in being separated is kind of like the sadness we feel when for the first year a family member has passed and is no longer with us to celebrate.
There will be some religious leaders who will do all they can to flaunt the scientifically based rules against congregating this spring, believing that their supreme being will spare their congregation, due to their elevated piousness and the certainty of their faith. These preachers should be ashamed of themselves, endangering their followers, even the little children in their community. Let's make an analogy. If a severe hurricane were battering the coast, would these geniuses hold a prayer service on a seaside boardwalk? COVID-19 is also a phenomenon of nature.
So, let's do our best to celebrate together with our own self-isolated family, and involve our extended family and friends from a distance using the technology available to each of us. There are sure to be better days ahead in the months that come. Best wishes to you and your families in these dangerous times.
---
Photo creidit: Single Candle by 4028mdk09 – Wikimedia Commons licence