Freedom and civility coincide well in Canada, while our women in science rise to the top
By Stephen Fogarty
•

August 30, 2017
Respecting each other's space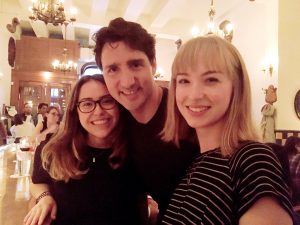 Many stories have surfaced about Canada this year marking its 150th anniversary as an independent nation. Here is one going to Canada's uniqueness, since likely there are no other countries in the world where what happened to our office assistant on a Friday evening in Montreal earlier this summer could have occurred.
Our office assistant Clare and her friend Kristina went out for a glass of wine at a well-known establishment, and managed to get seats at the bar. They noticed a couple of empty seats beside them that the bartender was keeping open, but didn't think much about it.
A little while later, a handsome man came in with a friend and sat down beside them, and he said a friendly "Bonsoir" to Clare. Not a big deal in most places, but this man happened to be the Prime Minster of Canada. What also made this so special was that there was no commotion, people in the bar the whole time the PM was there simply and calmly went about their normal relaxing business on a Friday night, with only a couple of security people keeping an eye on things, but having no need to intervene.
Incidents like this illustrate how we live in a free country, where we also recognize the need for each other's space, and why people will do their best to get here, and why it is important that we do out best to get them here safely and legally. So that's a pretty great legacy of freedom coupled with civility we stand for, and why I am proud to help people secure a better future in Canada.
And now for the rest of the story
Before the PM left, Clare had the opportunity to have a quick chat, with the event preserved for posterity on the photo above. She also repeated her point on her Twitter handle @mcfogarty, writing, "Such a pleasure to meet @JustinTrudeau tonight! Support for women in science is pivotal to our progression. Thank you, Mr Prime Minister!"
Not many days later, on July 13, 2017, PM Trudeau announced that Ms. Julie Payette would serve as Canada's next Governor General, as representative of the Queen in Canada. Considering Ms. Payette's education in engineering, her masters of applied science in computer engineering, and her notable career as an astronaut, we like to think that Clare's Tweet might have helped Mr. Trudeau to make his choice of new Governor General, and thereby indicate his support of women in science at the highest level.
---
Photo: (L to R) Kristina Wade, PM Justin Trudeau, Clare Fogarty. Photo by Marc Miller, MP