Fogarty Law Firm Logo Details
The Fogarty Law Firm logo is based on the traditional family crest of the Fogarty family of Ireland, whose roots may be traced back in historical documents there for many hundreds of years. Among prominent family members mentioned in historical sources is Niallus Fogartagh, high king of Ireland, who was assassinated circa 719 AD. The historical accuracy of the family crest is confirmed by the fact that it is carved into the stone of the main tower at Castle Fogarty in Ireland.
The crest has been stylized somewhat to give it a modern look, and been placed on a yellow disc. For us, this disc represents the complete circle of service we strive to offer our clients with our team. The disc also stands for the globe, our planet, from the four corners of which our clients come to build a better life in Canada.
Ancient family crests from Europe include symbols and colours which may be understood by general rules of heraldry. There may be certain variations in different countries.
The Fogarty crest has two main colours: azure blue, which stands for truth and loyalty, and yellow (representing gold) for generosity. The minor colour is silver, for peace and sincerity.
The two standing or "rampant" lions are holding the yellow "garb" or sheaf of wheat. The lions stand for courage, honour and royalty, while the sheaf of wheat represents industry. The silver crescent (bottom left) stands for royal lineage and favour. On the bottom right there is a yellow harp, which in general heraldry represents a mystical bridge between heaven and earth, as well as contemplation.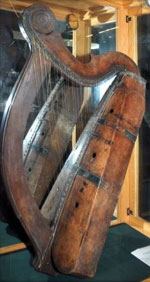 In Irish lore, the harp is the national symbol representing Irish culture and freedom. Historically, only very few Irish families were permitted to use the harp as part of their family crest. In fact, one of the national treasures of Ireland is the O'Fogarty harp, pictured at left, which was played by a renowned 17th century musician, Cornelius O'Fogarty.
Fogartys emigrated from Ireland to Canada beginning in the early 19th century. By the 1851 census, there were 63 Fogartys in the country. Among these were Stephen Fogarty's great, great grandparents, Daniel and Rose Fogarty, both born in Ireland during 1799-1800.